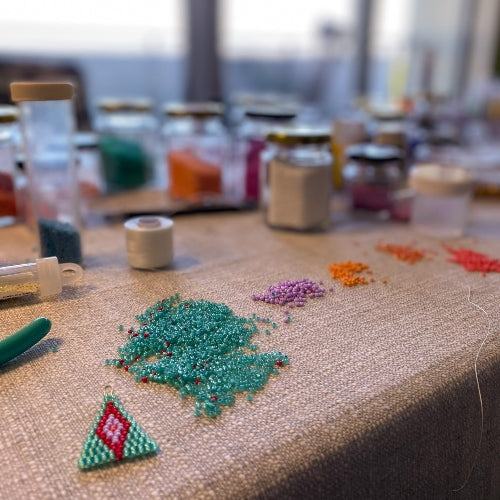 (First published June 2021 alongside our website/brand launch - revised October 2022 with more present day language amendments)
Number values are really only half the story when it comes to pricing. There are societal norms, self-worth, cultural appropriations, and perceptions that also come into play. 
When we first sat down to price our work in the beginning (Fall 2020), we used benchmarks of other beaders that we were following. Even back then, we felt our prices were high. If you have been with us since the beginning you would have noticed that our prices had steadily climbed between day 1 and the launch of the website. Part of this is due to our skill level accelerating - but a lot of it is due to a learning curve. In our humble opinion, nearly every beader on the market is under charging (although we are happy to see prices steadily increase). 
This comes down to a few reasons. The first is the history of cultural appropriation. For years, traditional indigenous patterns and designs have been mass produced in sweatshops. Even today - Zara currently has a pair of beaded earrings listed for $20!!! We looked at the design and there is no physical way to create a pair in less than 3 hours - if not 5. For them to be $20, it is quite easy to draw a conclusion of production in a sweatshop. This market undervaluing is a constant battle. 
Thankfully many have woken up to cultural appropriation in the past decade and the tide is slowly turning. Consumers are growing more conscious and are thinking about who's hands produce their products. This doesn't always denote a change in purchase habits right away - but we are seeing a shift. None-the-less the pricing legacy lingers. We are inundated in a fast fashion world. 
This next theory might not be scientifically proven, but it is without a doubt those who experience trauma (first hand or intergenerationally) struggle with self-worth. When we think about our great grandmother charging $40 for her INCREDIBLE beaded moccasins (regardless of inflation) this is a gross undervalue of primarily women's handiwork. This pattern of undervaluing women's work is so deep and so incessant in our culture and in our marketplace that we barely blink an eye. However, we have no problem raising eyebrows when women begin to value their worth and their output. 
There is much more we could say about this. But today we will focus on the power and healing that comes from stepping into your power, into your self worth. This process is certainly reflected in pricing artwork. It's all part of the healing process.
THEN there is the story of the actual numbers....
In the product itself, it is important to us to use high-end durable materials:
We use ethically sourced sterling silver and 14K gold plated findings

Glass seed beads (mix of Czech, Japanese, and Toho) 

Semi-precious gemstones (in some pieces only - we will always make a specific note if they are included) 

All of our packaging uses the reduce, reuse, recycling method and we never use single use plastics 
These pieces are 100% handmade. The time and heart put into these creations are reflected in our prices:
Design time can take anywhere between 30 min- 5 hours per design. Sometimes the different bead types and/or colours do not work together in the way we envisioned which means going back to the drawing board to create the perfect expression to honour the story. 

The earrings vary between 3-7 hours to create once they are designed (not to mention human error to account for mistakes/redos) 
All business operations are run by the two of us:
An important aspect of this company is the story telling through each piece, each story and message requires time, thought, and editing

Copywriting: We incorporate factual based copy and history and this requires research. Depending on the copy, we have an elder proofread

Digital creative: We run our social media and create all of the content that goes into it. This includes staging, sourcing staging materials, photography, videos, and being the models - or asking our gracious friends to model

We not only hand packages and mail out/ deliver all of our orders - we also conduct a small ceremony to cleanse, bless, and protect each pair before sending

Sourcing materials takes a lot of time. We are constantly searching for very specific colours to create our art. Furthermore, we are continually evolving our craft and looking for new ways to innovate. All of this takes time and heart.

 
Chi Miigwech for reading through. 
Continue reading